How to spend your day in Veligandu
Live out your dream Maldives vacation at Veligandu Island Resort & Spa. The 90-room, 4.5-star resort is recognised as one of the Top Romantic Hotels in Asia and Maldives by TripAdvisor Travelers' Choice Awards for romance.
Veligandu's natural beauty, with lush tropical gardens, pristine stretches of beach and glittering azure lagoon, will sweep you off your feet as you fall in love with all the different ways to spend your time.
Here are a few ideas for a blissful day in paradise.
A scenic 20-minute seaplane transfer will bring you to the island, where you will be welcomed by the swaying palm trees and the sound of Bodu Beru drums. A cool, refreshing drink will be placed in your hands as you are guided through the check-in process 
Plan Out The Perfect Itinerary
Settled in your beach or water villa, and your Island Host will help you plan out the perfect itinerary. You can snorkel, dive or have some fun with Watersports such as paddle-boarding, or be as leisurely as you please, with indulgent spa treatments in the over-the-water Duniye Spa.
A must do is a photo-shoot to commemorate your time in paradise. Veligandu's in-house photography studio will take good care of you, whether you are looking for a more traditional shoot or an extraordinary drone shoot.  
Lunch  at Madivaru à la carte
Madivaru, offers a fine dining menu of a fusion of Asian and Western cuisines, artfully prepared, mouth-watering specialities, spiced up with mesmerising lagoon views.
You can celebrate your love by reaffirming your vows in the most beautiful place on earth. Have a symbolic, traditional Maldivian wedding against the backdrop of the sea and the sounds of Bodu Beru drums will serenading you as you declare your love. 
Set Sail In A Sea Of Romance
As the sun sets, take to the sea on any of the romantic cruises Veligandu offers, or enjoy the tangerine skies from your sunset villa.
A Delightful Dinner For Two
After dinner, stargaze, attend the guest cocktail party and meet new friends or enjoy live music, each evening presents a different experience.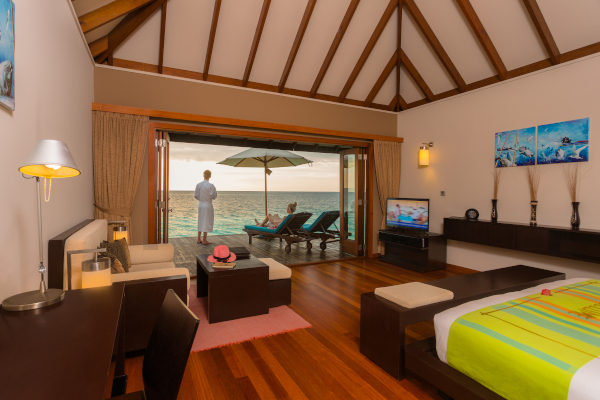 Wake up and do it all over and more. There will be plenty more to do, from couple treatments at the spa, fine dining, laying by the infinity pool cruising on a luxury yacht to deep-sea fishing even!